Why Homeownership Wins in the Long Run
Today's higher mortgage rates, inflationary pressures, and concerns about a potential recession have some people questioning: should I still buy a home this year? While it's true this year has unique challenges for homebuyers, it's important to think about the long-term benefits of homeownership when making your decision.
Consider this: if you know people who bought a home 5, 10, or even 30 years ago, you're probably going to have a hard time finding someone who regrets their decision. Why is that? The reason is tied to how home values grow with time and how, by extension, that grows your own wealth. That may be why, in a recent Fannie Mae survey, 70% of respondents say they believe buying a home is a safe investment.
Here's a look at how just the home price appreciation piece can really add up over the years.
Home Price Growth over Time
The map below uses data from the Federal Housing Finance Agency (FHFA) to show just how noteworthy price gains have been over the last five years. And, since home prices vary by area, the map is broken out regionally to help convey larger market trends.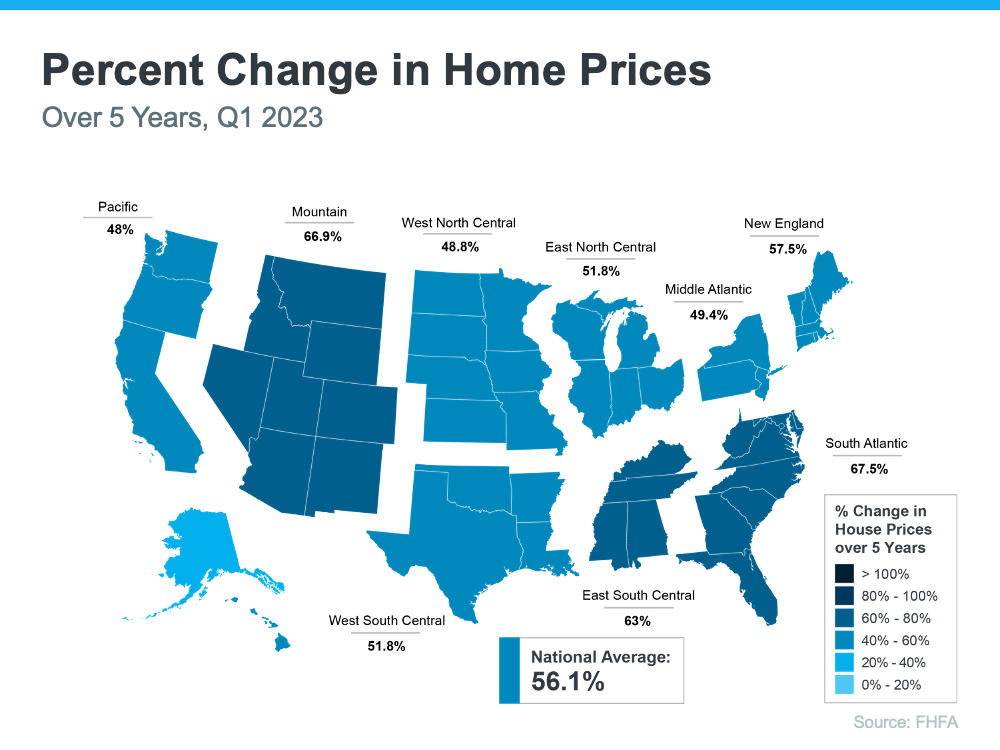 If you look at the percent change in home prices, you can see home prices grew on average by just over 56% nationwide over a five-year period.
Some regions are slightly above or below that average, but overall, home prices gained solid ground in a short time. And if you expand that time frame even more, the benefit of homeownership and the drastic gains homeowners made over the years become even clearer (see map below):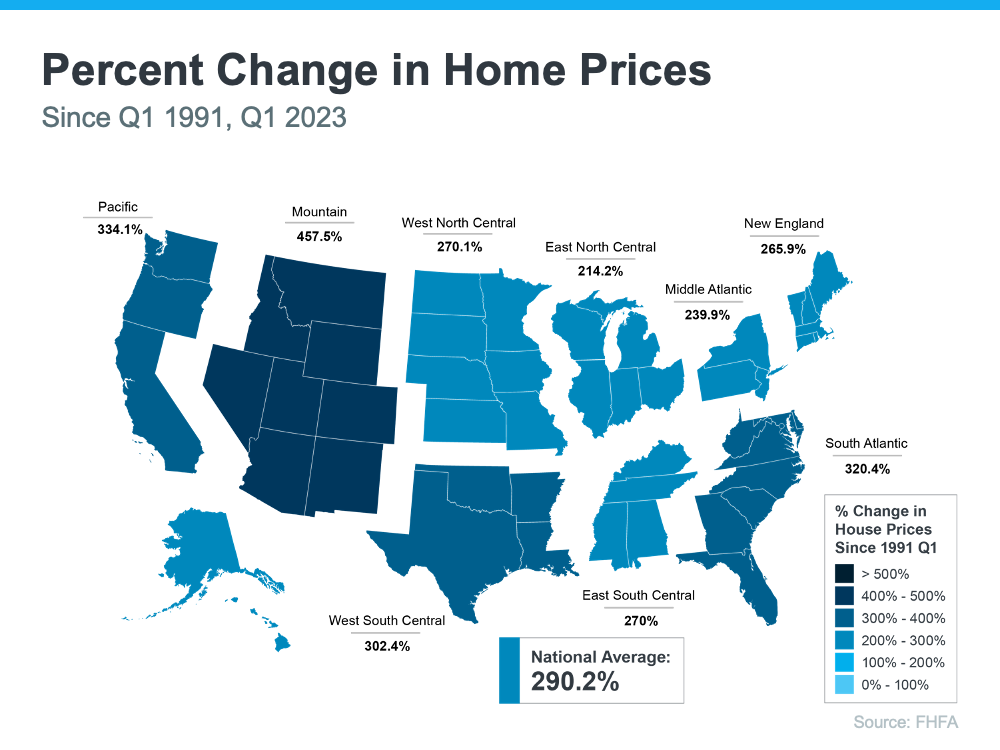 The second map shows, nationwide, home prices appreciated by an average of over 290% over a roughly 30-year span.
This nationwide average tells you the typical homeowner who bought a house 30 years ago saw their home almost triple in value over that time. That's a key factor in why so many homeowners who bought their homes years ago are still happy with their decision.
And while you may have heard talk in late 2022 that home prices would crash, it didn't happen. Even though home prices have moderated from the record peak we saw during the 'unicorn' years, prices are already rebounding in many areas today. That means, in most markets, your home should grow in value over the next year.
The alternative to buying a home is renting, and rental prices have been climbing for decades. So why rent and deal with annual lease hikes for no long-term financial benefit? Instead, consider buying a home.
If you're questioning if it still makes sense to buy a home today, remember the incredible long-term benefits of homeownership. If you're ready to start the conversation, let's connect today.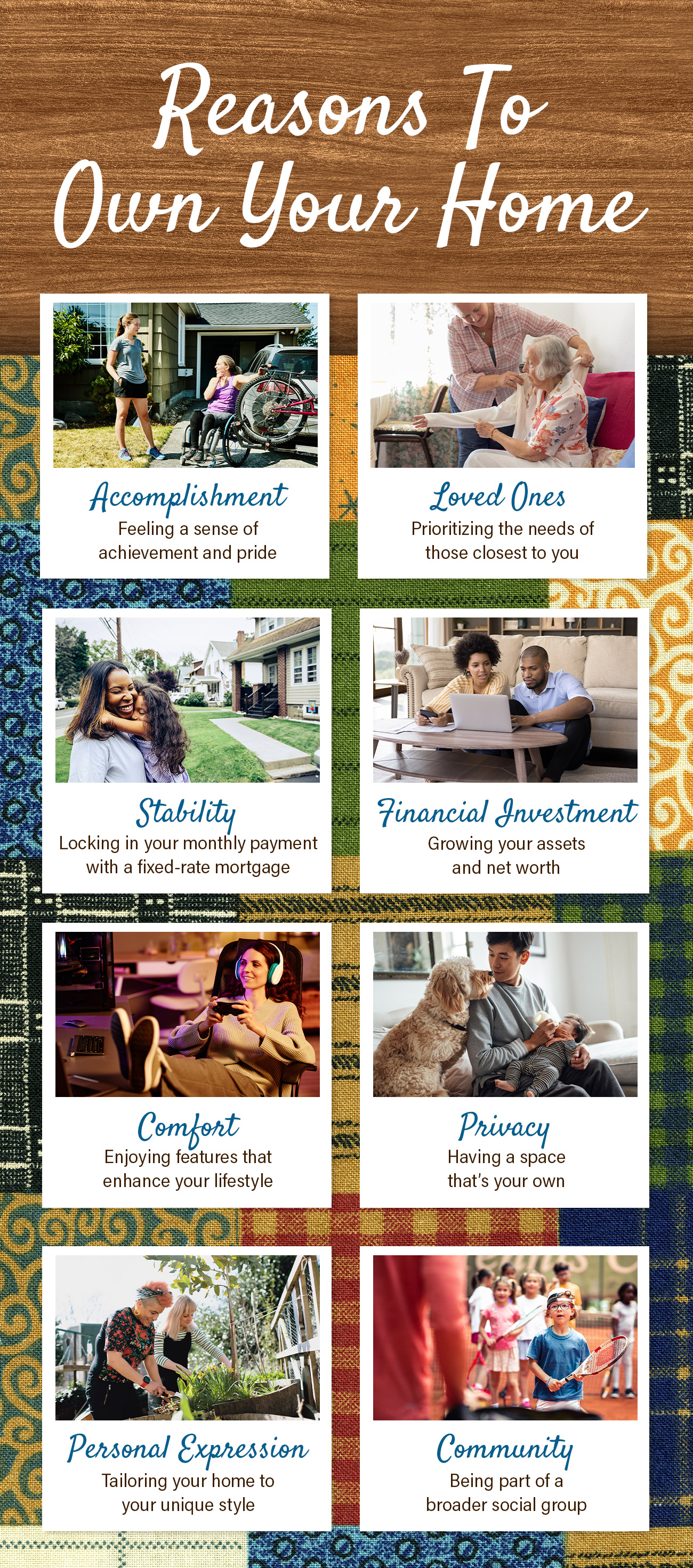 Some Highlights
June is National Homeownership Month, and it's a perfect time to think about all the benefits that come with owning your home.
Owning a home not only makes you feel proud and accomplished, but it's also a big step toward having a secure and stable financial future.
Are you ready to enjoy all the amazing advantages that come with owning a home? Let's get in touch to start the process today.
One of the benefits of being a homeowner is that you build equity over time. By selling your house, that equity can be used toward purchasing your next home. But before you can put it to use, you should understand exactly what equity is and how it grows. Bankrate explains it like this:
"Home equity is the portion of your home you've paid off – in other words, your stake in the property as opposed to the lender's. In practical terms, home equity is the appraised value of your home minus any outstanding mortgage and loan balances."
The Majority of Americans Have a Large Amount of Equity
If you've owned your home for a while, you've likely built up some equity – and you may not even realize how much. Based on data from the U.S. Census Bureau and ATTOM, the majority of Americans have a substantial amount of equity right now (see graph below):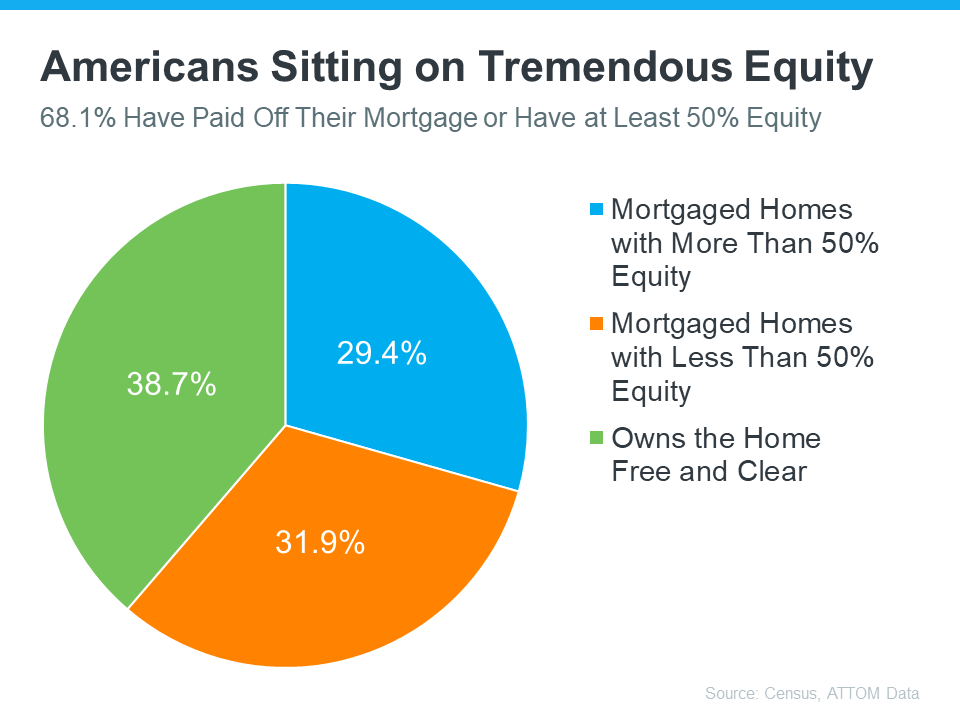 And having such large amounts of equity is a benefit to homeowners in more ways than one. Rick Sharga, Executive Vice President of Market Intelligence at ATTOM, explains:
"Record levels of home equity provide security for millions of families, and minimize the chance of another housing market crash like the one we saw in 2008."
Over time, your home equity grows. In addition to providing financial stability while you own your house, when you're ready to sell it, that money could go a long way toward paying for your next home.
Bottom Line
By selling your house and leveraging your equity, it can be easier to pay for your next home. Always be sure to consult with a licensed real estate professional to you can find out how much home equity you have and start planning your next move.
A lot has changed over the past year, and you might be wondering what's in store for the spring housing market. If you're planning to sell your house this season, here's what real estate experts are saying you should keep in mind.
1. Houses That Are Priced Right Are Still Selling
Houses that are updated and priced at their current market value are still selling. Jeff Tucker, Senior Economist at Zillow, says:
". . . sellers who price and market their home competitively shouldn't have a problem finding a buyer."
The need to price your house right is so important today because the market has changed so much over the past year. Danielle Hale, Chief Economist at realtor.com, explains:
"With a smaller pool of buyers today and more competition from other homes on the market, homesellers will likely need to adjust their price expectations in the market this spring."
While this spring housing market is different than last year's, sellers with proper expectations who lean on a real estate expert for the best advice on pricing their house well are still finding success. And that's great news if you're thinking about selling.
2. Buyers Are Still Out There
As mortgage rates have risen and remain volatile, some buyers have pressed pause on their plans. But there are still plenty of reasons people are buying homes today. Lisa Sturtevant, Chief Economist at Bright MLS, spells out the mindset of today's buyers:
"For some buyers, higher mortgage rates simply means buying a home is out of the question unless home prices fall. For others, higher mortgage rates will be a hurdle but ultimately will not keep them from getting back into the market after sitting on the sidelines for months."
That's why, if you're interested in selling your house this spring, it's helpful to work with a real estate agent who can help connect you with those buyers who are ready to purchase a home.
Today's homeowners are sitting on significant equity, even as home price appreciation has eased recently. If you're a homeowner, your net worth got a boost over the past few years thanks to rising home prices. Here's what it means for you, even as the market moderates.
How Equity Has Grown in Recent Years 
Because of the imbalance between how many homes were for sale and the number of homebuyers in the market over the past few years, home prices appreciated substantially.
And while price appreciation has slowed this year, that doesn't mean you've lost all the equity in your home. In fact, the latest Homeowner Equity Insights report from CoreLogic finds the average homeowner's equity has grown by $34,300 over the past year alone.
And if you've been in your home longer than that, chances are you have even more equity than you realize.
While that's the national number, if you want to know what happened in your area, look at the map below from the Federal Housing Finance Agency (FHFA). It shows on average how much home prices have risen over the past five years, which has been a major driver behind equity growth.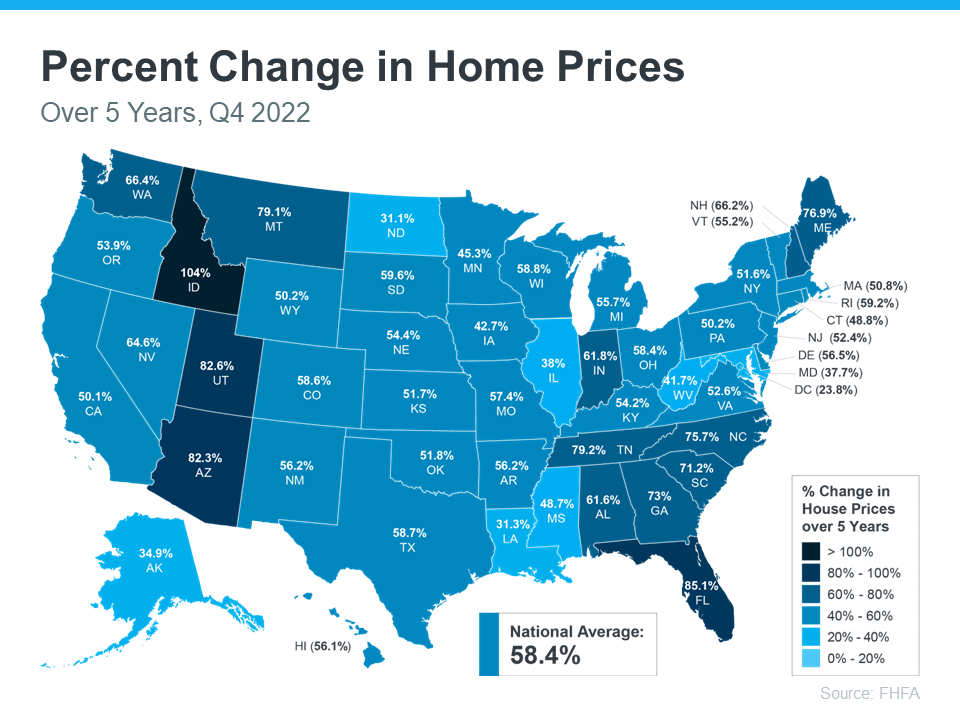 Why This Is So Important Right Now 
While equity helps increase your overall net worth, it can also help you achieve other goals, like buying your next home. When you sell your current house, the equity you've built up comes back to you in the sale, and it may be just what you need to cover a large portion – if not all – of the down payment on your next home.
So, if you've been holding off on selling, it may be time to find out how much equity you have and how it can help fuel your next move.
Bottom Line
Homeownership is a long game, and if you're planning to make a move, the equity you've gained over time can make a big impact.