If you're following the news today, you may feel a bit unsure about what's happening with home prices and fear whether or not the worst is yet to come. That's because today's headlines are painting an unnecessarily negative picture. If we take a year-over-year view, home prices did drop some, but that's because we're comparing to a 'unicorn' year when prices peaked well beyond the norm.
To avoid an unfair comparison to that previous peak, we need to look at monthly data. And that tells a very different and much more positive story. While local home price trends still vary by market, here's what the national data tell us.
The graphs below use recent monthly reports from three sources to show the worst home price declines are already behind us, and prices are appreciating nationally.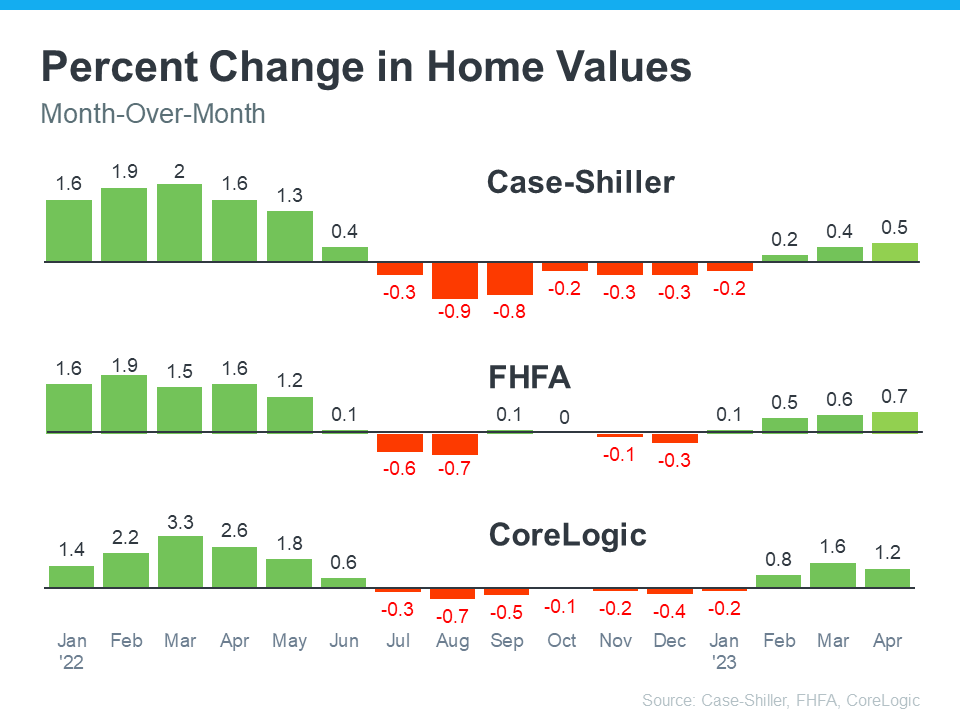 Looking at this monthly view, we can see the past year in the housing market can be divided into two parts. In the first half of 2022, home prices were going up, and fast. However, starting in July, prices began to go down (shown in red in the graphs above). By around August or September, the trend started to stabilize. But, looking at the most recent data for early 2023, these graphs also show that prices are going up again.
The fact that all three reports show prices have been going up for three or more straight months is an encouraging sign for the housing market. The month-over-month data indicates a national shift is happening – home prices are rising again.
Craig J. Lazzara, Managing Director at S&P Dow Jones Indices, says this about home price trends:
"If I were trying to make a case that the decline in home prices that began in June 2022 had definitively ended in January 2023, April's data would bolster my argument."
Experts believe one of the reasons prices didn't crash like some expected is because there aren't enough available homes for the number of people who want to buy them. Even with today's mortgage rates, there are more people looking to buy than there are homes available for sale.
Mark Fleming, Chief Economist at First American, explains how more demand than supply keeps upward pressure on prices:
"History has shown that higher rates may take the steam out of rising prices, but it doesn't cause them to collapse entirely. This is especially true in today's housing market, where the demand for homes continues to outpace supply, keeping the pressure on house prices."
Doug Duncan, Senior VP and Chief Economist at Fannie Mae, states home price growth is exceeding expectations thanks to that high demand:
". . . housing prices continue to show stronger growth than what was previously expected . . . Housing's performance is a testimony to the strength of demographic-related demand . . ."
Here's How This Affects You
Buyers: If you've been holding off on buying because you were worried the value of your home would go down, knowing home prices have bounced back should bring you some relief. It also gives you the opportunity to own something that usually becomes more valuable as time goes on.
Sellers: If you've been waiting to sell your house because you were concerned about how changing home prices would affect its value, it might be a good idea to team up with a real estate agent to list your house. You don't have to wait any longer because the latest data suggests things are turning in your favor.
Bottom Line
If you delayed your moving plans because you were concerned about home prices dropping, the latest data reveals the worst is already over, and prices are appreciating nationally. Let's get in touch so you know what's happening with home prices in our area.
When purchasing a property, whether it's a cozy home or a commercial space, it's essential to ensure that the ownership rights are clear and unencumbered. Real estate transactions involve numerous legal and financial complexities that can be daunting for both buyers and sellers. In North Carolina, one invaluable tool that helps protect parties involved in these transactions is title insurance. Title insurance serves as a crucial safeguard, providing peace of mind and mitigating potential risks associated with property ownership. In this blog post, we will delve into why title insurance is particularly important in North Carolina.
1. Resolving Title Defects:
Title defects can arise from a variety of sources, including errors or omissions in public records, undisclosed liens, fraud, or previous deeds with irregularities. Without proper protection, these defects can result in severe financial losses or even loss of ownership. Title insurance plays a critical role in identifying and resolving these defects before a property transaction is completed. By conducting a comprehensive title search and offering financial indemnification against any uncovered issues, title insurance ensures that buyers can have confidence in their investment.
2. Inadequate Public Record Systems:
In North Carolina, like in many other states, public record systems may be imperfect or prone to errors. Inaccurate or incomplete records can lead to unforeseen disputes over property boundaries, conflicting ownership claims, or undisclosed easements. Title insurance companies in North Carolina have developed expertise in navigating these complexities and are equipped to uncover any hidden risks associated with a property's title. By doing so, they protect buyers and lenders from potential legal battles and financial losses that could arise from faulty public records.
3. Protection Against Undisclosed Liens:
Liens on a property can be a significant obstacle for buyers, potentially hindering their ability to secure financing or transfer ownership smoothly. In North Carolina, title insurance policies provide coverage against undisclosed liens, ensuring that buyers are not held responsible for pre-existing debts associated with the property. By addressing such financial encumbrances, title insurance policies facilitate seamless real estate transactions, safeguarding the interests of all parties involved.
4. Shielding Against Fraudulent Activities:
Unfortunately, real estate fraud exists, and North Carolina is not immune to such risks. Fraudulent activities can include forged documents, identity theft, or improper representation of property ownership. Title insurance serves as a shield against these threats, providing financial protection and legal recourse in case of fraud-related losses. This protection extends to both buyers and lenders, reinforcing trust in the real estate market and facilitating secure property transactions.
5. Encouraging Lending and Investment:
Title insurance is a requirement for most lenders in North Carolina. Lenders need assurance that their investment is protected in case of title-related issues that could jeopardize the property's value or their ability to recover the loan. By having a title insurance policy in place, buyers can satisfy lender requirements and secure financing more